High quality
aluminum welding
is one of the key technologies of the future production of the automobile, reliability is higher than the arc
welding
, we think, the first to choose the reasonable Aluminum Alloy, the more important is the use of high-quality solder, vacuum
brazing
.  
Aluminum Alloy has the advantages of light weight, high strength and corrosion resistance, Aluminum Alloy has become an important material in automobile manufacturing, high quality
aluminum Brazing
is one of the key technologies of the future production of the automobile, reliability is higher than the
arc welding
, compared with other
welding
methods,
brazing
has at least two unique advantages, easy to high precision, thin wall, complex parts with high production efficiency, in shell, pipe structure (automotive heat exchanger, oil cooler, hydraulic pipe etc.),
brazing
has been widely used.
Vacuum welding
and
brazing
in NOCOLOK
brazing furnace
are the advanced technologies which are respected at present. These two methods conform to the manufacturing concept of JIT production, excellent production and green manufacturing.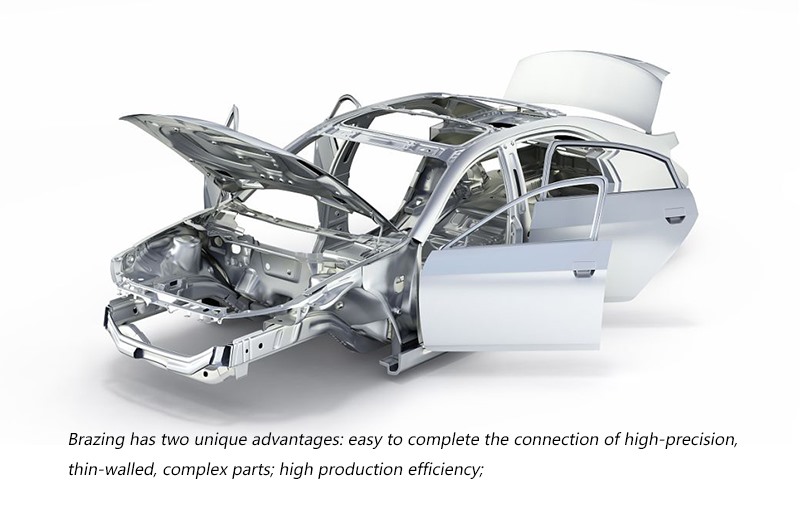 Solderability of aluminum alloy  
Compared with other alloy, the
brazing
property of aluminum is poor, and the main reasons are:
Aluminum and oxygen affinity for the larger, at room temperature in the air with oxygen to form aluminum can quickly Al2O3 film, 750-880K in the
brazing
temperature, film thickness can reach above 100nm, Al2O3 thin film is compact, stable, and very high melting point (2300K). Because the Al2O3 film is difficult to remove, it is necessary to block the wetting of the solder to the master filler. In general, it is necessary to use several thousands of
brazing flux
to braze the solder.