Aluminum alloy automotive sun roof have been made widely with aluminum profiles, and more used in wagons and multipurpose vehicles. The front and rear seats occupy a large proportion of the car body quality. The use of extruded aluminum section to make the seat frame can greatly reduce the quality of the vehicle without changing the traditional design. The seat track is made of complex hollow section profile, which shows that it has changed from sliding structure to impact linkage system, which improves the safety of the car.
An automotive sun roof is an operable (tiltingor sliding) opening in an automobile roof which allows light and /or fresh air to enter the passenger compartment. Sun roofs may be manually operated or motor driven, and are available in many shapes, sizes and styles.Sun roofs, by historical definition are opaque and slide open to allow fresh air into the passenger compartment. The first sun roofs were f Olding sun roofs , i.e. the panel made of fabric folds back as it slides open. Today, however, most factory-installedsliding sun roof options feature a metal or -more and more-a glass panel. Top-mount sliding sun roofs have been a popular factory option in the past, but are now generally replaced by inbuilt systems. In top-mount versions,large glass panels slide open in tracks on top of the roof, with no loss of headroom.In built sun roof systems have a panel which slides between the metal roof and interior headliner, requiring some loss of headroom, but providing a full opening in the roof. Sun roof systems are available in many shapes, sizes and styles, and are known by many names:

Pop-up sun roofs consist simply of a tilting panel. These panels are often removable, and must be stored when removed. The tilting action provides a vent in the roof, or a full opening when the panel is removed.
Spoiler sun roofs combine the features of a pop-up with those of a sliding roof system. They tilt to vent, but can alternatively slide open.
Panoramic roof systems are a newer type of large or multi-panel Sun roofs which offer openings above both the front and rear seats and may be operable or fixed glass panels.
Solar sun roofs have an inlaid photovoltaic solar insert which makes the glass totally opaque. While they operate identically to conventional factory - fitted glass sunroofs (tilting and retracting), the solar panel provides electricity to power the interior ventilation fans for cooling the car interior on hot days when the car is standing outside in the sunlight.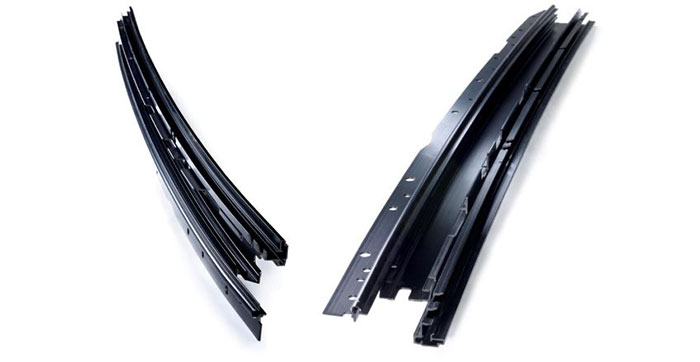 Lightweight aluminium components are a favoured solution for the design of the sun roof opening mechanism. Automobile companies generally use aluminium extrusions to make sun roof channels. Sun roof channels basically form part of a sliding system, i.e. the channels must have a smooth surface, show low friction and must be resistant to wear. Some manufacturers anodise the surface of these channels to produce a layer of aluminium oxide in order to improve the wear resistance. Furthermore, extruded profiles for sun roof channels have to meet high geometrical tolerances. Thus, a tight shape control of the extrusions is required.Aluminiumguide rails for sun roofs are typically made from EN AW-6060 extruded profiles. The extrusions are cut, bent, heat treated, punched, CNC milled, de-burred and finally surface treated.