Another important application of aluminium extrusions are roof rails. Roof rails are placed on the top of the vehicle and are used to carry additional luggage and equipment. Aluminium extrusions are used for manufacturing roof rails because they enable visually attractive, low weight and high strength designs. The length of aluminium roof rails can vary significantly, they are found on small cars as well as
on station wagons and MPV's (Multi Purpose Vehicles).
Roof rails have two principle functions; to enhance the design features of the vehicle and to carry extra loads placed on the roof, often with the help of another structure, e.g.transverse load bars or a roof box.
The typical roof rail has two cast supports with an extruded aluminium bar between them.It is also common to use an intermediate support for longer rails or where the design loads are high. The extrusion process provides almost limitless possibilities for the designer to choose a section that satisfies functional and esthetical demands. A subsequent stretch bending step offers additional design freedom. Casting offers similar freedom of design for supports. Supports are typically joined to the extruded bar by mechanical joining or by adhesive bonding. By hydroforming the rail,it is also possible to integrate the end supports with the extrusion and thereby eliminate the cast supports thus reducing the number of parts and enhancing design.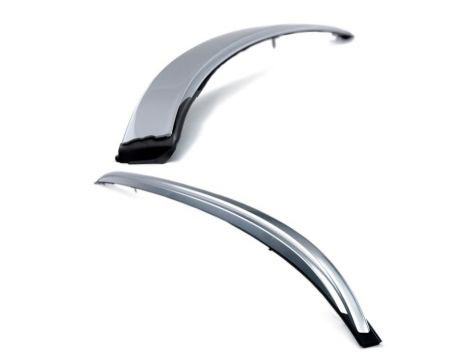 There are different possibilities for surface finishing of aluminium roof rails,in particular electrochemical polishing and anodizing. Depending on material and/or alloy, surfaces ranging from high-gloss to matt, from natural-colored to black aluminum are achieved by different processing options. Another possibility is powder-coating with matt or high-gloss lacquers.
Most of the new developments of roof rails are so called "flush rails". Flush rails are bent and machined extrusions which are integrated with the roof trim. There are no cast end supports, but only a bent and machined extrusion which isfixed flush to the roof trim.The alloy EN AW-6060 is generally used for the flush rails.
The luggage roof rails is located in the roof, by 3D precision bending processing, materials for tensile strength more than 200N/mm² - 6063 T6, the material requirements are: extrusion, cold forming and cutting were good, to meet the three-dimensional precision bending and distortion requirements section.

Aluminum Step is required on the decorative parts, 6063-T5 alloy can choose good gloss and surface treatment ability of the extruded material also has high requirements on the size precision of the section.
The high-gloss surface appearance of anodized strips underlines the top quality, dynamic design of the luxury and high performance vehicles. Therefore,"high gloss packages"are particularly prominent with upper class models and sport cars.Popular are for example tread plates for the door sill. Tread plates are usually made from the Extrusions alloys EN AW-6060 or 6063; the extruded profiles are cut, pressed, CNC-milled,scratch-brushed / polished and anodized.